DBCI News
DBCI is dedicated to driving industry innovation through the development of new products and superior services. We share this information with our customers and educate the public on how to achieve the greatest value and performance from DBCI products and services.
DBCI Introduces Innovative Drum Design for Roll-Up Doors
DBCI announced today the launch of a redesigned roll-up door, which features a corrugated drum. This new, industry-leading design delivers improved door alignment on all light- and heavy-duty roll-up door applications, enabling the corrugated sheet to roll up faster and with tighter, superior control.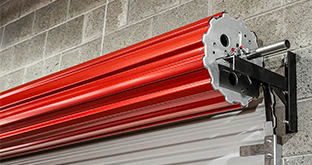 Available for self-storage and commercial applications—including wind-rated and low headroom projects—the new design enables the corrugated door sheet to fit plumb into the drum, securing it tightly on the barrel. This enhancement provides smoother cycle operation and prevents sheet misalignment over time.
Felt strips adhered around the barrel and down the sheet on self-storage doors minimize metal-on-metal friction, thus reducing noise when opening and closing. On commercial doors, the corrugated panel provides complete, full-color coverage around the door axle and interior drums for a seamless look. This design improves the aesthetics when the door is viewed from the inside of a building as compared to the colorless, exposed flat sheet previously used.
"DBCI is continuously looking for opportunities to add value to our products and better serve our customers," said DBCI Vice President, Jeff Lloyd. "This innovative design was developed with our customers' needs in mind and continues DBCI's legacy of re-defining industry standards."
For more information about DBCI's corrugated drum, view our production information sheet, or visit the commercial and self-storage components pages on our website.