DBCI Blog
The Power of Innovation. The Strength of Commitment. Steel roll-up door tips, tricks and industry updates from DBCI.
DBCI Blog
/
How to Fully Utilize DBCI's New Website
How to Fully Utilize DBCI's New Website
Posted on March 25, 2021 by DBCI
Welcome to the new DBCI website! To make utilizing DBCI.com easier and more enjoyable, we developed a list of the new features.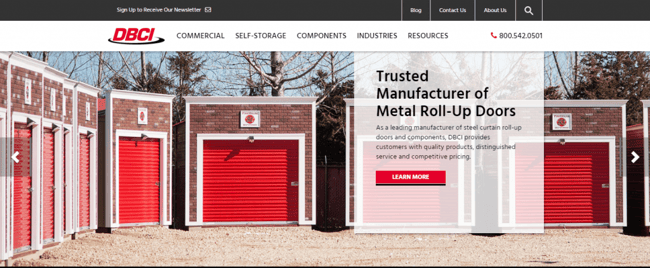 Here are some of the highlights:
Blog: Starting with the most apparent, we launched a this blog as part of the new website. As a leading manufacturer of commercial-grade steel roll-up doors, DBCI strives for innovation and customer satisfaction. With our new blog, users will gain insight to what is happening in the industry and receive helpful information like tips on installation or maintenance, as well as answers to common questions.
Product Pages: To allow for easier navigation, DBCI brings you organized product pages that are user-friendly and rich with information. Each page offers a variety of images, a features list, and several related documents to improve your experience.
Industry Pages: Exploring products based on your industry or with your end-use in mind has never been easier than with our new Industries section. Users can choose between Commercial, Self-storage, Agricultural, Freight and Warehousing and Recreational.
Improved Resources Section: In addition to easier navigation, we have added features to the Resources page. Now, you can enjoy a number of videos which provide information on products, installation and maintenance. This section also houses product brochures and CAD details to offer more detailed information on our product options and features.
Search Feature: Are you not sure how to locate the information you need? The new search option will take you right to what you are looking for.
Responsive Design: Offices are no longer the standard workplace. With that in mind, the new website is mobile- and tablet-friendly so DBCI products and information are at your fingertips.
DBCI looks forward to reaching your expectations and keeping you updated on what is next for our company and our customers. For now, we are excited to present this website to you and hope that you enjoy the new design!