DBCI Blog
The Power of Innovation. The Strength of Commitment. Steel roll-up door tips, tricks and industry updates from DBCI.
DBCI Blog
/
Choosing a Heavy-Duty Roll-Up Door
Choosing a Heavy-Duty Roll-Up Door
Posted on March 25, 2021 by DBCI
When selecting a heavy-duty roll-up door for your facility, it's important to weigh the options before making a purchase. These doors are generally larger than residential doors, and they'll have to stand up to damage from forklifts and other machinery that is present in a commercial setting. It's important to choose a door that won't hinder the efficiency of your business and will last despite wear and tear from daily use.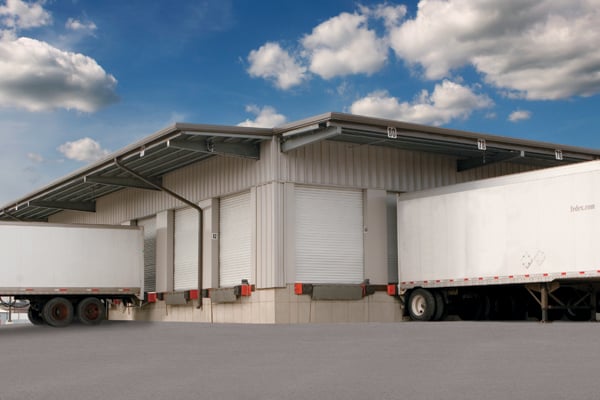 Key Heavy-Duty Roll-Up Door Considerations:
Whether you're looking for a roll-up door for a loading dock in your warehouse or an interior roll-up door for your retail business, there are several factors you should consider to ensure you make the best choice for your facility.
Building Codes – When you're choosing a roll-up door for your business, it's important to familiarize yourself with the building codes for your area. To ensure that all requirements are met, go to your local governing body to find out more information.
Industrial Safety Codes – Roll-up doors are heavy and can pose safety issues if they're not properly operated. Familiarize yourself with the industrial safety codes within your industry before purchasing a roll-up door for your commercial facility.
Fire Rating – For internal heavy-duty roll-up doors, you should be aware of fire rating requirements which are dictated by the fire marshal.
Wind Load – Before selecting exterior roll-up doors for your facility, you should investigate the wind load requirements for your county. This is especially important for facilities located near the coast. The wind load measures how many pounds per square foot the roll-up door can withstand, so for more durability, choose a door with a higher PSF rating.
Open/Close Speed – For some industries, this is an important factor to consider when selecting a roll-up door. If your door is opened and closed several times within a day, fast open and close speed will be important for efficient operation. If your commercial facility is heated or cooled, a door with fast open and close speed may be ideal to preserve the temperature of your space. This may also be an important consideration in the food industry to limit exposure to insects.
Quality – When choosing a heavy-duty roll-up door, quality should be an important consideration. Make sure the parts and curtain of your door are made of durable materials. Steel doors are great for strength, making them a low-maintenance option.
Heavy-Duty Roll-Up Door Types
There are a variety of roll-up door types to choose from including coiling doors, sectional doors and sheet doors. Coiling doors are the strongest and most heavy-duty option, however, they're significantly more expensive because they have more steel. Sectional doors are also a heavy-duty option for your commercial facility, however, they have several moving parts that require maintenance by a trained professional. These sectional doors also require a significant amount of headroom. Sheet doors are a slightly less heavy-duty option. They're easy to install and maintain so you can spend less money on hiring a door contractor and more money on running your business.
Selecting a Heavy-Duty Roll-Up Door Manufacturer
Once you've determined what kind of heavy-duty roll-up door your facility needs, you need to find a company to order it from. When you're selecting a door provider, you should consider price, distribution and customer service. Prices will vary from manufacturer to manufacturer, so it's important to make sure you're getting the best quality door for your money. Prices will also vary based on the manufacturer's distribution policy and shipping costs. Roll-up doors are an investment for your facility, and it's important to choose a vendor that will support you throughout the purchase process. If you're not familiar with the product, purchase your door from a company that provides comprehensive resources for installation and maintenance.
If you have any questions about what kind of heavy-duty roll-up door you should select for your facility, contact one of our knowledgeable sales representatives and sign up for our newsletter to stay in touch.