DBCI Blog
The Power of Innovation. The Strength of Commitment. Steel roll-up door tips, tricks and industry updates from DBCI.
DBCI Blog
/
Commercial Roll-Up Door Installation Tips
Commercial Roll-Up Door Installation Tips
Posted on March 25, 2021 by DBCI
Once you have selected the best commercial roll-up doors for your facility, the next step will be to install them. Make sure the process goes smoothly with these commercial roll-up door installation tips.
Hire a Professional
Efficient commercial roll-up door operation is crucial for the efficiency of your business. Aside from selecting a high-quality product, proper installation is the best way to prevent common issues in commercial roll-up doors. To ensure that your roll-up doors are properly installed, enlist the help of trained door system technicians. These experienced professionals will be able to avoid installation common mistakes by making sure that the brackets are level, the guides are placed correctly and the spring tension is balanced.
Follow the Instructions
It's important to follow the manufacturer's instructions line by line. Complete each step in the order in which it is presented without skipping any steps. One small oversight can lead to bigger problems down the line that can affect the operation of your commercial roll-up door. For example, misalignment is one of the most common and easily avoidable installation mistakes. To avoid this, use precise measurements instead of eyeballing them.
Keep the "Red Zone" Clear
The "Red Zone" is the defined area of space that must remain clear for the installation and maintenance of roll-up doors. This includes vertical headroom, horizontal headroom, and side room. These areas are needed for hardware and accessibility to service your door. It must be kept clear of electrical and mechanical equipment such as light fixtures, sprinklers, and more. The amount of "Red Zone" space that is required depends on a variety of factors such as the operation style (manual or motor-operated), door size, and more.
If the "Red Zone" is not clear when the roll-up door installer arrives, it can lead to costly changes by other trades and lost time. To avoid this, make sure that the "Red Zone" documentation is distributed to all trades that are working on the building.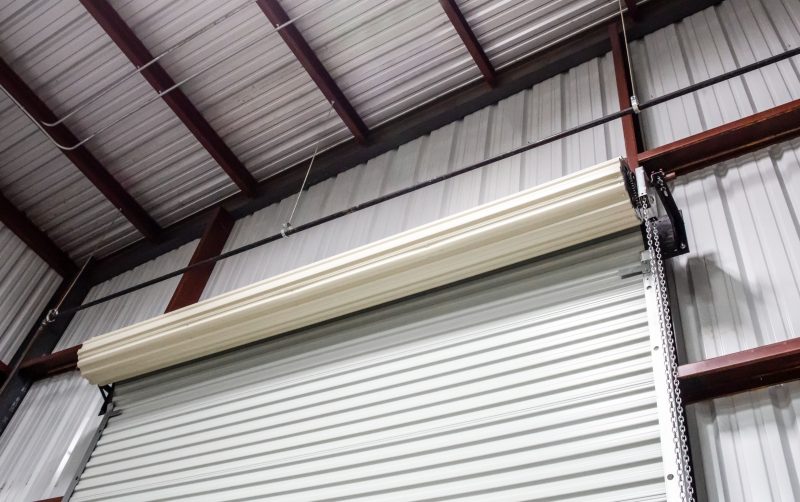 Handle Commercial Roll-Up Doors with Care
When your commercial roll-up doors are delivered, check the packaging for any damage that may have occurred during transport and notify the manufacturer immediately. This will help expedite the process in case any repairs or replacement products are needed.
Prior to and during the installation process, it's important to handle your commercial roll-up doors with care to avoid damaging them as this could lead to delays. To protect your roll-up doors, leave them in their original packaging until you're ready to install them. Avoid storing commercial roll-up doors for extended periods of time. If extended storage is unavoidable, make sure to find a clean, out-of-the-way spot that is protected from the elements. Store the doors horizontally on a flat surface to avoid damaging the curtain. Learn additional best practices with our blog post, tips for storing and handling metal roll-up doors.
When transporting your commercial roll-up doors within your facility, keep them on the skids and add padding beneath the straps as needed. Use caution when operating machinery to avoid damage to the doors.
At DBCI, our commercial roll-up doors are engineered for easy installation. To learn more about our cutting-edge products or for help with installation questions, contact one of our experienced sales representatives.