DBCI Blog
The Power of Innovation. The Strength of Commitment. Steel roll-up door tips, tricks and industry updates from DBCI.
DBCI Blog
/
How To Select a Warehouse Roll-Up Door
How To Select a Warehouse Roll-Up Door
Posted on March 25, 2021 by DBCI
Heavy-duty roll-up doors are used in a variety of freight and warehousing businesses to protect inventory and promote efficient shipping operations. It's important to make sure that your facility is both secure and operating efficiently.
Selecting the right door can help your business run more smoothly and keep your inventory from being stolen or damaged. Whether you need a roll-up door for a highly-operational loading dock or a commercial storage facility, listed below are the qualities you need in a heavy-duty roll-up door.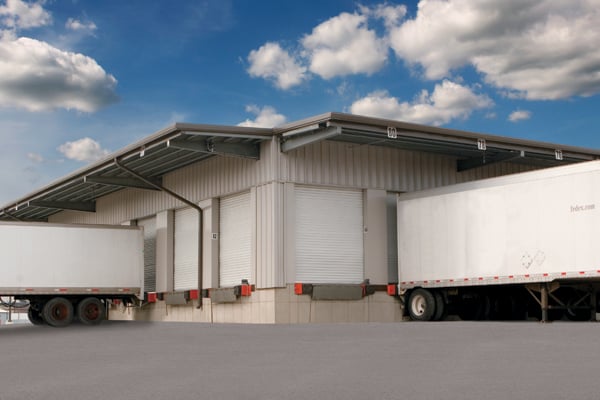 Headroom
Look for a roll-up door with minimal headroom requirements. This will allow for a higher clearance for heavy machinery such as forklifts. It also decreases the likelihood of heavy machinery damaging the door curtain.
High Open & Close Cycle
If you have frequent deliveries and outgoing shipments, you'll need a roll-up door that can be quickly opened and closed multiple times a day. These high-traffic areas require a durable and dependable roll-up door that's designed to open and close efficiently without wearing out over time.
Easy-to-Replace Drum
Due to the high-paced nature of a freight and warehousing facility, the curtain of your roll-up door can be susceptible to damage from a forklift or delivery vehicle. Look for a product that allows for replacement of the drum with the continued use of the existing guides. This one-step replacement process will save you time and money, allowing you to continue your business operations.
Customizable Locking Systems
Warehouses and industrial facilities are used to store inventory. To prevent theft, find a roll-up door manufacturer that will work with you to provide a custom locking solution.
Heavy-Duty Curtain
Industrial buildings such as warehouses and distribution centers require heavy-duty roll-up doors that can stand up to wear and tear from frequent use and large equipment. They serve a variety of functions from keeping animals, debris and moisture out to preventing theft. Also, for industrial buildings, you may want to look for a 26-gauge, grade E hard steel curtain from a manufacturer that offers finish warranties.
Tying It All Together
Don't let your roll-up doors keep your freight and warehousing business from operating securely and efficiently. From design to functionality, there are several factors to consider when purchasing new roll-up doors or replacing existing ones within your industrial facility.
Why Choose DBCI
For over 25 years, we've partnered with customers to provide durable, high-quality roll-up door solutions backed by distinguished customer service. Our roll-up doors feature an innovative corrugated drum design which provides superior cycle operation, improved sound control and a more seamless aesthetic compared to industry-standard alternatives. They're designed with an open axle assembly to provide easy access to spring and drums for easy adjustment and maintenance. We also use oil-tempered, torsion springs for longevity with minimal maintenance.
Contact us to learn more about our freight and warehousing doors. With our project services, we'll help design an efficient solution for your business and provide a complete estimate of project costs. We also offer installation services for select projects.