DBCI Blog
The Power of Innovation. The Strength of Commitment. Steel roll-up door tips, tricks and industry updates from DBCI.
DBCI Blog
/
Roll-Up Doors for Vehicle Storage Facilities: Simple Considerations
Roll-Up Doors for Vehicle Storage Facilities: Simple Considerations
Posted on March 25, 2021 by DBCI
While traditional overhead doors are used on most home garages to house the family cars, holiday décor, tools, workstations and backyard items like grills, they often aren't large enough to store much of anything else. And for many people, the allure of owning and perhaps restoring one or more vintage automobiles, or sports cars, or a dream truck, represents great significance and value. For others, traveling long distances and/or with family and friends requires more than just a traditional automobile, so they opt for a full-sized motor home or camper. Still others enjoy heading out for aquatic adventures in their own boats that need to be pulled on trailers.
While all of these recreational vehicles elicit many good times and fond memories, the reality is that they either aren't used very frequently, or require additional protection because of their value. This results in the need for a convenient, easily accessible and secure storage facility that can accommodate large, unconventional vehicles either seasonally or year-round. But beyond the space, what should be considered when evaluating your recreational vehicle storage options?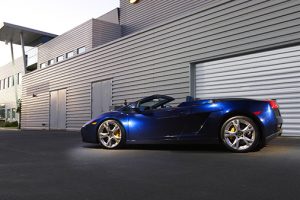 Accessibility:
Most people prefer ready access to their recreational or hobby vehicles—often on the same site as their homes. However, residential garages typically aren't large enough to accommodate many such vehicles, so a larger, often separate structure is needed. Metal building packages can be erected on homeowner property and customized to accommodate larger access points often needed to store recreational vehicles. Likewise, homeowners can also turn to storage facilities outfitted to accommodate their needs.
While the location and size of the storage space are certainly important points of consideration, they are also fairly easy to achieve in order to suit most storage needs. However, because maneuvering in and out of traditional self-storage lots and units can be logistically tricky, using larger, more efficient and more durable roll-up doors for vehicle storage facilities becomes the focus of attention for many current and perspective recreational vehicle owners.
Convenience and Durability:
When it comes to convenience and durability, metal roll-up doors fit the bill perfectly. Often made of 26-gauge Grade-E Hard Steel and roll-formed with 5/8" deep ribbed corrugation to ensure they are built to last, these doors can be manually operated with a pull chain or electrically operated by a motor for greater convenience. The door guide system, which keeps the door moving in the proper position, can be made from 18-gauge galvanized steel with pre-punched holes for the easy attachment of anchors, latches, brackets and other door components. And, the assembly into which the door sections roll up (known as the axle-drum assembly) is similarly made from rugged steel for durability. These valuable specifications are the reason steel-curtain roll-up doors are commonly the first choice for self-storage facilities, mini-warehouses, barns and garages that house recreational vehicles.
Efficiency and Effectiveness:
From a usability and space-saving standpoint, roll-up doors don't require space in front or behind them for door leaves to swing—rather, the door curtain rolls straight up out of the way to open, and straight down to close. And—unlike panel overhead doors that are commonly used in residential garages—there is no impact on the ceiling or the highest point of the structure when a roll-up door is open. This gives you more usable height in the garage or storage unit and means ceiling lighting is not covered by the door panels, track or any other structural or mechanical components that may protrude below the ceiling.
Additional Advantages:
In addition, other features and options on roll-up doors make them well-suited for recreational vehicle storage areas. The door curtains are typically pre-finished with a heavy-duty exterior paint over a prime coat (and are available in as many as 23 different colors backed by industry-leading chalk and fade warranties) for easy customization. And, torsion springs and a gear-driven tensioning device provides safe, precise tensioning capability that requires minimal maintenance and results in a quiet, smooth-running system.
For recreational and hobby storage facilities that are heated or cooled and where energy conservation might be a concern, fully-insulated metal roll-up doors are available. Further, a compressible, replaceable bulb astragal can be used to seal out drafts along the bottom of the door when closed.
To learn more about the details and options available when selecting the best roll-up doors for vehicle storage facilities or other structures, contact your local DBCI representative.