DBCI Blog
The Power of Innovation. The Strength of Commitment. Steel roll-up door tips, tricks and industry updates from DBCI.
DBCI Blog
/
Converting Existing Buildings into Self-Storage Facilities
Converting Existing Buildings into Self-Storage Facilities
Posted on March 25, 2022 by DBCI
Self-storage facilities continue to be popular and in demand in many locations across the country, but finding the right place to build one can sometimes be tricky. In many market areas, rather than constructing a new facility, converting an existing building for self-storage is a great alternative.
For example, converting an underutilized warehouse building may make a lot of sense, particularly if it is no longer suited for modern warehouse needs but is conveniently located for individuals or businesses to access. This approach can save time with local regulatory approvals if the building is already accepted for storage uses. It can also save construction time and money if the work is fundamentally limited to an interior remodel of the space to create separate storage rental spaces.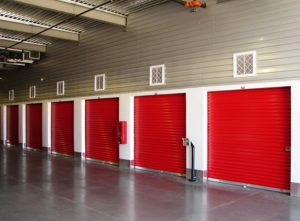 When looking at building conversions for self-storage, take into account the following checklist of considerations:
Market Feasibility: It is common to do a feasibility study for any self-storage facility based on local market information of the area within a 3-5-mile radius surrounding the planned location. The same should be done for an existing building conversion looking first at the market type – i.e., urban, suburban, or rural, since each of those will commonly suggest different sizes and types of storage requirements. In addition, information should be collected on things like market size, expected market growth, disposable income statistics, business competitors and traffic patterns.
Unit Mix: With the market feasibility information available, an assessment can be made of the specific variety of size and shape of the storage units that will best serve that specific market. For example, multiple smaller units may be suggested where the need is excess personal storage from apartment dwellers, while larger, garage-sized spaces may be needed for automobiles or furniture. Also keep in mind the benefits of unit placement based on the frequency of which your renters will need access to their units. Residential renters tend to visit their units less frequently than commercial renters, who would appreciate units near the entrances. Customer-focused considerations like this can sometimes be the reason a renter chooses to give their business to one facility over another.
Design Options for Functionality: For an existing building conversion, an architect and/or an engineer will be needed to assess different possible layouts that meet building codes and provide enough detail to get competitive construction pricing. That process can be streamlined by working with a manufacturer that specializes in self-storage products such as metal roll-up doors, modular metal hallway and wall systems, and even metal mezzanine systems where the existing interior building heights allow it. Of course, those metal components will need to be designed and laid out to work around existing building features and structure, but a good architect and a complete, integrated set of metal components will help achieve that efficiently and economically. Other detail options can be considered for such systems, such as protective kick plates, corner guards, column wraps and wall wainscoting to keep the facility looking good over time and avoid extra maintenance from possible damage. Further options can address security and safety, such as burglar bars or mesh panels to fill in any wall openings or horizontal reinforcing along walls to prevent any breaches there. A range of types of locks and latches on roll-up doors can also help to create the most appropriate security condition at a facility. The beauty of working with a single manufacturer for all of these components is the compatibility between them, and the inherent ease in coordinating the design and construction process.
Curb Appeal: Any self-storage facility needs to attract customers, and that is hard to do if the building doesn't convey a positive image. Fundamentally, it needs to present a clean and safe appearance, but beyond that, a well-designed exterior and interior will go a long way toward helping a potential customer feel good about renting storage space at the building. Existing buildings in particular allow for customization based on the unique or distinctive features of the building, which can help set it apart from the competition. Incorporate the self-storage brand wherever you can such as awnings, signs, door displays and anything that can be painted in the brand's colors. Further, integrating some common retail space with services that allow customers to purchase supplies and easily arrange shipping can help attract customers to your facility.
If you are interested in learning more about how to do successful self-storage conversions by working with a manufacturer who can supply comprehensive, coordinated systems using metal roll-up doors and self-storage building components, contact your local DBCI representative.