DBCI Blog
The Power of Innovation. The Strength of Commitment. Steel roll-up door tips, tricks and industry updates from DBCI.
Steel-Curtain Roll-Up Doors 101
Posted on March 25, 2022 by DBCI
With a national self-storage industry valued at $32.7 billion in 2016 and more than 54,000 self-storage facilities operating, steel-curtain roll-up doors are being relied on now more than ever. In this blog post, we provide an overview of steel-curtain roll-up doors, offer recommendations on how to select the right one for your project and also reveal why—in a marketplace with a plethora of options available—people are choosing them across a wide variety of industries.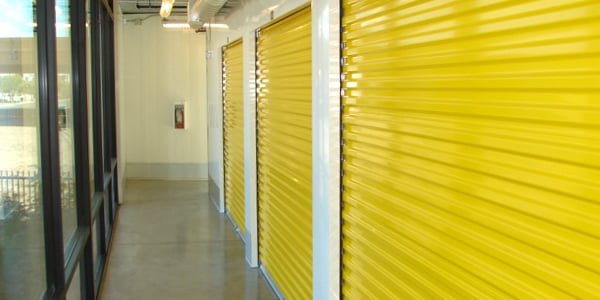 What are Steel-Curtain Roll-Up Doors?
Made of durable, secure steel and designed to provide quick, easy access to buildings, steel-curtain roll-up doors open by traveling vertically, but gather into a roll at the top of the door instead of sliding along tracks. Whether applied in backyards, residences or industrial facilities, they are an integral part of any structure that uses them. In addition to being the primary point of entry for most self-storage units, including on personal sheds, residential garages or commercial storage facilities—steel-curtain roll-up doors are commonly used in shopping centers, recreation, agricultural and industrial facilities, as well as government, medical and business complexes. But why are so many people and industries investing in steel-curtain roll-up doors?
Benefits of Steel-Curtain Roll-Up Doors:
In addition to generally being less expensive at initial purchase, steel-curtain roll-up doors save money over the course of their life-span. They last longer, require fewer, less expensive repairs, and are more durable and secure than products made from other materials—particularly in challenging environments. Doors made from steel are also more energy-efficient, saving on heating and electricity costs throughout the year. Read on for details on the benefits of steel-curtain roll-up doors:
Security
As the most vulnerable points of most buildings, the security of roll-up doors is vital in reducing the potential for damage and loss resulting from theft, fire, vandalism, excess noise and contamination. Steel doors that feature stainless steel latches are more impenetrable than those made from wood, fiberglass or aluminum and are better able to provide reliable security and peace-of-mind.
Durability
Manufactured to protect against demanding environments and extreme weather, the resiliency of steel can resist the wear and tear of heavy traffic usage. The use of specialized door components like corner guards provide protection against the damage likely to occur as a result of heavy traffic and day-to-day operations. Steel roll-up doors can also be outfitted with rust-resistant components including spring coatings and bottom bars for added durability.
Longevity
With proper installation and maintenance, metal doors can last 30 years or longer as they are not susceptible to warping, rotting, denting or cracking—common issues with doors made from other materials. The high-quality primers and paint coatings used on steel doors protect against chipping and scratching, keeping the doors looking better longer.
Easy Maintenance
Steel roll-up doors require little-to-no maintenance and are easily replaceable, only adding to their reliability and cost-effectiveness. DBCI's doors are unique in that they feature gear-driven tensioning brackets that ensure safe and easy adjustments as well.
Customizability
Steel roll-up doors are available in a wide variety of sizes, styles and colors. In addition, manufacturing improvements and advances in coating and paint products enables customization to suit even the most unique aesthetic requirements.
Space-Savings
Roll-up doors open vertically and are gathered into a roll instead of sliding along tracks, enabling convenient and easy access while taking up little overhead space.
Steel-Curtain Roll-Up Door Selection:
While it may be obvious that using a light-duty door on a commercial facility located on the Florida coast is not going render good results, there are other factors to consider when selecting your steel-curtain roll-up doors whether you are replacing doors on an existing building or sourcing them for a new project:
Use
The door you need will depend on its intended use. Light-duty doors are manufactured to meet the specific and unique demands of small structures, portable buildings or recreational facilities while heavy-duty doors are suited for the more demanding environments of commercial freight and utility buildings, warehouses and agricultural facilities.
Environment
Those in regions susceptible to high winds from weather events including hurricanes, tropical storms and tornadoes should consider wind-certified doors that are tested in accordance with International Building Codes (IBC) and comply with your insurance requirements. Check both local and national building codes to understand if you need wind-certified doors, which can dramatically reduce maintenance and replacement costs as well as minimize downtime. You can also read our previous blog post to see how DBCI doors withstood the strength of Hurricane Matthew.
Compliance
To ensure that state and local government facilities, public accommodations and commercial facilities are accessible and usable by people with disabilities, the Justice Department enforces the Americans with Disabilities Act of 1990 (ADA). The ADA stipulates minimum standards for accessible design and specifies building and scoping requirements for newly-designed and constructed or altered building. Check your compliance requirements in the revised 2010 ADA Standards for Accessible Design and consider the use of ADA-compliant kits that feature things like door pulls and signage according to your needs.
Warranties
Be sure that you are familiar with and fully understand the warranty options available on the products you purchase. Doors and door components are commonly covered by a product warranty, while the coil coatings and paint are warranted under a second that should include considerations for film integrity as well as both chalk and fade.
To learn about DBCI's roll-up door solutions, visit our website or contact your local sales representative.