DBCI Blog
The Power of Innovation. The Strength of Commitment. Steel roll-up door tips, tricks and industry updates from DBCI.
DBCI Blog
/
How to Prepare Your Roll-Up Door for Hurricane Season
How to Prepare Your Roll-Up Door for Hurricane Season
Posted on March 25, 2022 by DBCI
Summer is quickly approaching and with it, so is hurricane season. According to NOA, hurricane season in the Atlantic lasts from June 1 through November 30. These strong storms can wreak havoc on your self-storage facilities. However, with the right preparation, you and your tenants can have peace of mind. Learn how to prepare your roll-up door for hurricane season and how to handle any damage that may occur.
Choosing the Right Roll-Up Door for Your Coastal Facility
The best way to prepare your storage facility for a hurricane is to purchase wind-rated doors. These steel curtain doors can resist the impact of forceful wind gusts that could cause other doors to buckle, bow, become misaligned or totally separate from the framing. Door failure can cause an increase in pressure inside the building which could result in complete structural failure. Wind-rated steel doors play a vital role in protecting the structure of your building, including your roof since the guide track on these doors is specifically designed to resist pressure associated with hurricane-force winds.
The wind rating of a door depends on a variety of factors including the size of the door, obstacles in front of the door, roof height and roof angle. The wind load of these doors is measured in pressure per square feet, also known as PSF. Use this wind load calculator to determine whether your roll-up door meets the pressure requirements for your geographic location.
How to Prepare Your Roll-Up Doors for a Hurricane
An announcement has been made that a hurricane is heading your way. There are a few things you should do to make sure your roll-up door is prepared to weather the storm:
Inspect Your Doors
Check the astragals to ensure that no blowing rain will enter beneath the door. This is an important line of defense for every door in your self-storage facility as it will help keep stormwater out of the units. For any unoccupied units, you should check that all the bolts and guides are firmly attached.
Protect with Plywood
Covering your roll-up door with a piece of plywood can help protect it from damage caused by flying debris.
Photograph Your Facility
Take photographs and videos of your facility before the storm to show that you've properly maintained it. Make sure to include images of the door curtain to show that they're free from any serious damage. If you have access, take photos of the guides from the inside to show that they're properly attached.
Common Hurricane Damages
The most common damages sustained by roll-up doors following a hurricane are dents and dings from flying projectiles. In most cases, these damages are purely cosmetic and don't interfere with the operation of the door. If the door is blown out of the guides by a strong gust of wind, the door will be damaged beyond repair and in need of replacement. In this case, the interior of the building will also sustain damage as it exposed to the elements.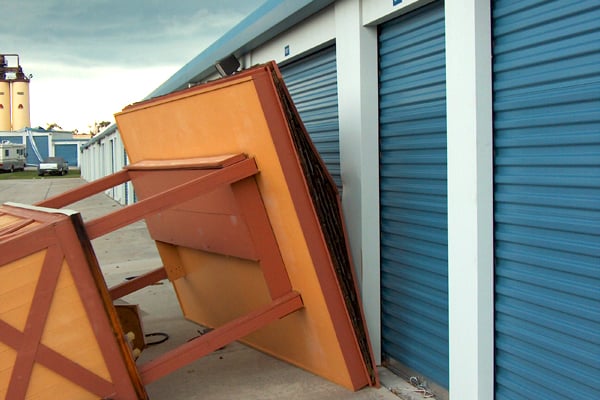 After the Storm
The storm has passed and it's time to survey the damage done to your facility and begin the cleanup process. Here are a few things you should do:
Inspect the Doors for Damage
Check the curtains themselves for impacts from flying debris. If there is damage which has chipped the paint and exposed the metal door, you should use touch up paint to prevent rust. Open and close the doors in your facility to ensure that they're still properly aligned within the guides. If the curtain hasn't buckled and the guides are still properly mounted, the door should move up and down smoothly.
Photograph & Document Any Damage
Document and damage that has occurred to your facility or roll-up doors specifically by taking photos and videos. This is vital for insurance purposes.
Replacing Your Roll-Up Door
If your door has been damaged beyond repair, it's important to replace it as quickly as possible to protect your tenant's property. In most cases, roll-up door providers are aware of hurricane threats so they can increase production to decrease lead times after a major weather event.
To order a replacement door, here are a few things you'll need to know:
The exact width and height of your roll-up door
Accurate measurements for side room and headroom
Jamb type – Masonry? Steel? Wood?
If you have any questions about how to prepare your roll-up door for a hurricane or replace your door after a serious weather event, contact our experienced sales representatives.