DBCI Blog
The Power of Innovation. The Strength of Commitment. Steel roll-up door tips, tricks and industry updates from DBCI.
DBCI Blog
/
Replacing Self-Storage Roll-Up Doors
Replacing Self-Storage Roll-Up Doors
Posted on March 25, 2021 by DBCI
Reasons to Retrofit
There are a variety of reasons to retrofit your self-storage facility with brand new roll-up doors. Upgrading your doors can improve the aesthetics, functionality and profitability of your self-storage building. Learn more about the reasons to retrofit.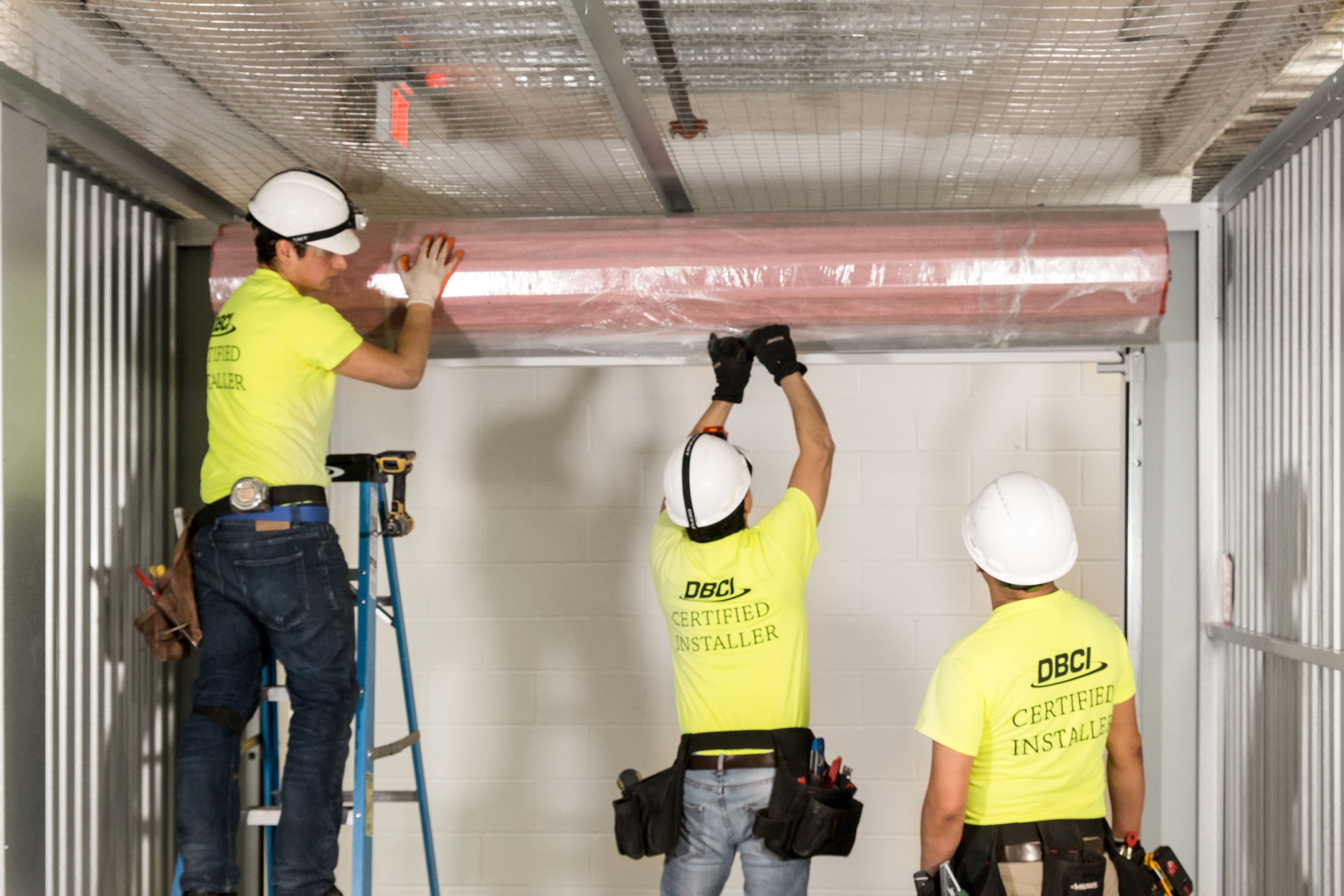 Functionality
As your roll-up doors age, they may become more difficult to open or close. This can cause injuries and potential lawsuits. Many older doors aren't designed for easy spring tensioning which can make it more difficult to maintain the functionality of your roll-up doors over time.
Replacing your roll-up doors can improve ease of access for your customers and reduce the risk of serious injuries and lawsuits. It can also make it easier on you to perform routine maintenance such as spring tensioning.
Retrofitting your facility with new roll-up doors can also help bring your self-storage building up to code, especially on the coast.
Profitability
Replacing old and outdated roll-up doors is a great way to improve the overall look and feel of your self-storage facility, allowing you to increase the rental price for each unit to make your business more profitable.
If you replace your roll-up doors before they wear out completely, you may also be able to receive a tax break for accelerated depreciation.
Aesthetics
Over time, your self-storage roll-up doors will endure their fair share of wear and tear from tenants. There's only so much that touch up paint can do for your aging roll-up doors. Replacing your roll-up doors is one of the best ways to upgrade the look of your self storage facility.
Choose from a variety of eye-catching colors to make your storage business stand out from the rest, For sizable orders, color matching is available to recreate the existing look of your facility.
Selecting Retrofit Roll-Up Doors
When selecting retrofit roll-up doors, there are a variety of factors to consider including the location of your facility. If your facility is located on the coast, you will probably need wind-rated roll-up doors. In climates with extreme temperature fluctuations, you may want to consider insulated roll-up doors to help control interior temperatures inside each storage unit.
Another important factor to consider is the design of the self-storage roll-up door. Here are some design features to look for:
Corrugated Drum – Improves alignment, enabling the doors to roll-up quicker and tighter with superior control. Also offers smoother cycle operation and sound control. Download our data sheet to learn more.
Easy Access to Spring Tension Adjustment – Allows for one person to adjust with an Allen Wrench
Stainless Steel Latch – Resistant to rust and corrosion. Learn more about our latch options.
The Retrofit Process
Once you've selected retrofit roll-up doors for your facility, most roll-up door manufacturers will assist with the installation of your new roll-up doors.
What to Expect
The facility should let tenants know about the updates to the facility and acquire keys to each unit.
The installer will typically hire a third party for security during the installation process. That third party is responsible for photo documentation to prove that nothing has been damaged or stolen. They also provide video surveillance.
The installation is typically phased out in sections. This makes the process more efficient and limits the long-term storage of materials onsite.
Your installer will remove the existing door and replace it with the new one. Generally, they will assist with the disposal of the existing doors.
Upon completion, the crew foreman will check to make sure that the doors were properly installed. Then they will conduct a walk through with the facility owner to make sure everything is completed to their satisfaction.
To learn more about retrofitting your self-storage facility with new roll-up doors, browse our selection of self-storage roll-up doors (650 Series & 690 Series) and contact an experienced DBCI sales representative today!