DBCI Blog
The Power of Innovation. The Strength of Commitment. Steel roll-up door tips, tricks and industry updates from DBCI.
DBCI Blog
/
How to Select Your Self Storage Swing Doors
How to Select Your Self Storage Swing Doors
Posted on March 25, 2021 by DBCI
When it comes to choosing doors for your building project, one size doesn't always fit all. When a roll-up door won't work, there's another option to consider – swing doors.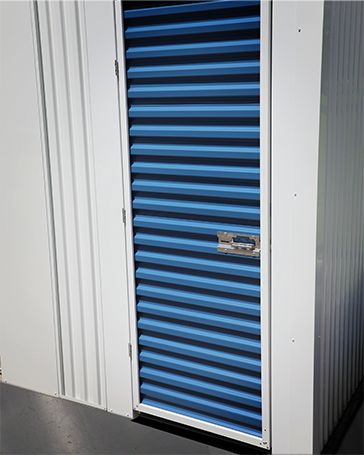 What is a Swing Door?
A swing door is a hinged door that features a four-piece frame with a curtain placed in the middle. The door features bracing on the back and in many cases, these supports are exposed.
Where are Swing Doors Used?
Swing doors are ideal for use in small, narrow spaces and can range in size from 2'6" to 3'6" wide and 20.75" to 7'4" tall. The smaller door sizes are often referred to as locker doors. Compared to their roll up door counterparts, swing doors don't require any overhead space within self-storage units, as they open outward. These doors can also be manufactured to be compliant with the Americans with Disabilities (ADA) Act.
Frequently used in self-storage facilities, swing doors allow facility owners to maximize rentable space. With these smaller doors, facility owners can utilize narrow spaces by creating non-standard sized units. Locker doors allow for the use of vertical space as stacking them creates space for several units—and therefore, more renters.
How to Choose a High-Quality Swing Door
A high-quality swing door is a door that is square, allowing it to mount properly within the frame and open easily.
When choosing a swing door, selecting one with a solid metal backing is ideal. This backing protects the bracing, curtain and latches from damage that can occur as tenants move items in and out, ensuring the longevity of the door. It also protects your tenants from injuring themselves on the metal supports inside of the door. The additional rigidity this metal backing provides prevents the door from twisting over time.
Another important feature to look for in a high-quality swing door is adequate hinge support. Based on the height of the door, the addition of an extra hinge can help more evenly distribute the weight of the door. This can help make the door easier to operate and ensure its longevity by preventing falling, drooping and misalignment.
Why Choose DBCI Swing Doors?
DBCI's swing doors feature a 20-gauge steel frame with a 26-gauge curtain to ensure durability. Manufactured using automated equipment for consistent quality, they also feature an enclosed door back. This provides a sleeker look along with the benefits of added safety and rigidity.
We offer a broad selection of roll-up doors and swing doors to fulfill your storage facility needs. By ordering both swing and roll-up doors through DBCI, you can count on receiving consistent product quality, product color matches and reliable service throughout the construction of your project.
If you have questions about selecting a swing door for your self-storage facility, contact one of our knowledgeable sales representatives.