DBCI Blog
The Power of Innovation. The Strength of Commitment. Steel roll-up door tips, tricks and industry updates from DBCI.
DBCI Blog
/
What's in a Metal Roll-Up Door? Part 1: Self-Storage Roll-Up Door Components
What's in a Metal Roll-Up Door? Part 1: Self-Storage Roll-Up Door Components
Posted on March 25, 2021 by DBCI
Steel curtain roll-up doors and swing doors are particularly well-suited for use in self-storage facilities, mini-warehouses, barns and garages for many reasons as detailed in our recent Roll-Up Doors 101 blog post. Because the curtain is the most visible part of the door, most people think it is the most important door component. However, the smaller, less noticeable components are just as vital. These parts ensure that the door functions properly and with minimal maintenance so they can remain assets to unit owners and renters alike.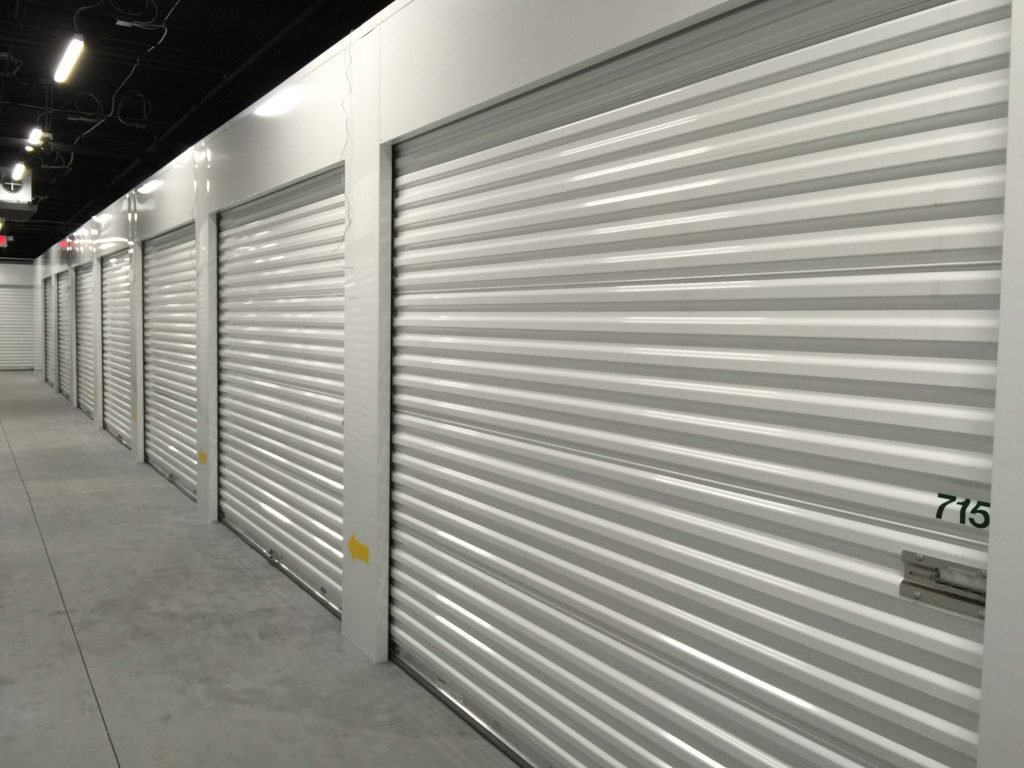 So, what are the components that make up a steel-curtain self-storage roll-up door?
Curtain: Door curtains—like those featured on DBCI's 650 Series roll-up door—are vital to the structural stability of the building envelope and should be engineered without the heavy, weighted elements required in frequent commercial use. In areas prone to wind damage from tropical storms, hurricanes and/or other high-wind events, the use of a wind-rated roll-up door is crucial to protecting the doors, the units they are affixed to as well as the contents within—particularly when the units are outward facing and exposed to the elements.
Frames and Panels: Door frames and panels help maximize unit space and keep valuables secure. Header and filler panels that are designed and manufactured with the end-users and installers in mind help ensure ease of installation, durability and operational efficiency.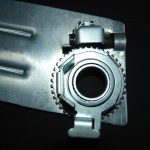 Tension Set Brackets: Older self-storage doors that lack tension require a qualified door technician to perform spring tension adjustments. DBCI's proprietary, gear-driven tension set brackets—which come standard on our self-storage roll-up doors—make adjusting roll-up doors easier, safer and faster and ensure a quiet, smooth-running
system. Facility maintenance personnel can adjust the tension themselves in as little as five minutes, saving time and cost to self-storage operations.
Latches: Doors designed for and fitted with stainless steel or APEX latches ensure integrity is maintained over the course of the door's lifespan and safeguard unit contents. DBCI's latches are constructed with limited pry points, double-padlock compatibility and can operate with magnetic alarm systems.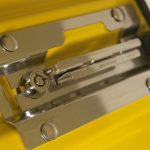 Bottom Bars (Kickplates): This component is designed to protect the door against weather as well as reduce damage and wear. DBCI's bottom bars are constructed using 6063-T3 aluminum and feature a vinyl weather seal that can be changed without replacing the entire door.
Additional Options for Self-Storage Facilities:
Although they are arguably the most used and most prominent portion of any self-storage facility, the doors are just a piece of the puzzle. Additional components that support the units, provide protection and security are just as important and complete any self-storage facility.
Hallway Systems: Self-storage facilities and their units can be enhanced with complete interior hallway systems that provide a modern, clean look while eliminating the hazards that unfinished or exposed edges pose to facility owners and renters alike.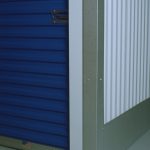 Corner Guards: The durability and longevity of both flush and corrugated hallway systems used in self-storage facilities can be greatly improved with the use of corner guards. This component provides a layer of protection against inevitable damage caused by hallway traffic.
Additional enhancements including partitions, strengthening horizontal bracing and low-tech, cost-efficient safety features like burglar bars, mesh and kits designed to help meet the Americans with Disabilities Act (ADA) requirements provide total solutions for any self-storage facility.
As with any door or component purchase, be sure to consult the product manufacturer for application, installation and maintenance instructions, as well as for information on warranties. To learn more, contact your local DBCI representative today.